SPECIFIC DESCRIPTION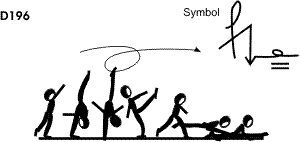 1. From a Free Support Illusion (360°).

2. The lifted leg comes directly down into a Split or Prone Split without the foot touching the floor.

3. Split.
MINIMUM REQUIREMENTS
ALL ELEMENTS must fulfill the respective minimum requirements for the involved movements

The rotation of the free leg must be completed vertical plane

The elements must be performed without extra turn (90º or more).