SPECIFIC DESCRIPTION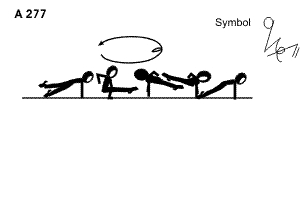 1. Front Support with legs apart.

2. Swing to double leg 1/1 circle

3. At the end of the first ½ circle a ½ twist is performed.

4. The body then continues to rotate for the last 180° in front support.

5. Front Support.
MINIMUM REQUIREMENTS
The starting position must be from front support on both hands.

The feet must not touch the floor during the element.