SPECIFIC DESCRIPTION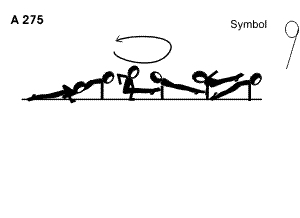 1. Front Support.

2. Legs apart initiate a swing.

3. From free support on both hands legs move with feet together and swing to the side of the supporting hand.

4. Hips are lifted and the body is extended.

5. Feet do not touch the floor before the completion of the 360° circle.

6. Front Support.
MINIMUM REQUIREMENTS
The starting position must be from front support on both hands.

The feet must not touch the floor during the element.