SPECIFIC DESCRIPTION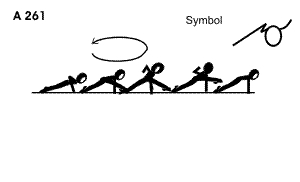 1. Front Support.

2. Perform a push up. As elbows extend in the upward phase of a push up, one leg starts to complete a single leg circle. Both legs must remain straight during the whole skill.

3. Front Support.
MINIMUM REQUIREMENTS
The starting position must be from front support on both hands.

The feet must not touch the floor during the element.