SPECIFIC DESCRIPTION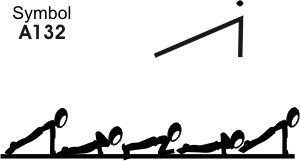 1. Front Support. Legs must be together during the whole movement.

2. A four-phase push up where the CoM moves downward and shifts backward.

3. The elbows lower to the floor pointing towards the feet and the ankles become a hinge.

4. Then, the body (C.G.) moves forwards and returns to the starting.

5. Finish in Front support.
MINIMUM REQUIREMENTS
At the end of the downwards phase the distance between the chest and the floor must not exceed 10 cm from the floor