SPECIFIC DESCRIPTION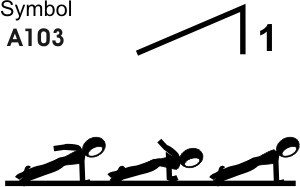 1. Front Support where the body is supported on both legs and 1 arm only.

2. Feet shoulder width apart.

3. Optional position of the free arm.

4. The direction of the elbow of the supporting arm during the downward phase is optional (lateral or pointed towards the feet) as well as the free arm.
MINIMUM REQUIREMENTS
At the end of the downwards phase the distance between the chest and the floor must not exceed 10 cm from the floor