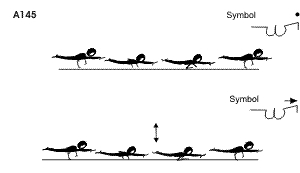 1. Front support.

2. One straight leg supported on the upper Triceps of the same side of the body.

3. The rear leg is lifted off the floor (Lifted Wenson).

4. Both legs must be straight and parallel to the floor and the back flat.

5. From that position a Hinge push-up or Lateral push up is performed.

6. Finish in Lifted Wenson.
MINIMUM REQUIREMENTS
At the end of the downwards phase the distance between the chest and the floor must not exceed 10 cm from the floor