CALENDAR 2014
| | | |
| --- | --- | --- |
| Date | Event | Venue |
| Feb. 28 – Mar. 2 | AER 4th International Open & World Cup 2014 | Cantanhede (POR) |
| Mar. 15 – 16 | AER Czech Open 2014 | Zlin (CZE) |
| Mar. 22 – 23 | Aquae World Cup 2014 | Aix Les Bains (FRA) |
| April 5 – 6 | AER Slovak Aerobic Open 2014 | Nove Zamky (SVK) |
| April 12 – 13 | Suzuki World Cup & Tokyo International 2014 | Tokyo (JPN) |
| May 2 – 4 | AER French Open 2014 | Chambery (FRA) |
| May 9 – 11 | AER Bulgarian Aerobics Open & World Cup 2014 | Borovets (BUL) |
| May 16 – 18 | Azores World Cup 2014 | Ponta Delgada (POR) |
| June 21 – 29 | 13th AER World Championships & WAGC 2014 | Cancun (MEX) |
| July 28 – Aug. 1 | AER ANAC Championships 2014 | Las Vegas (USA) |
CLARIFICATION OF THE CODE OF POINTS

APPENDIX 2
PLANCHE (P32/65)
A support in which the body is supported on both hands with straight arms.
Hands may be turned out at the wrist or pointing towards the feet.
Legs are in straddle.
Hold for 2 seconds.
The bodyline must not exceed 20° above parallel.
MINIMUM REQUIREMENTS:
Straight body (body / legs) must not exceed 20 degrees above horizontal.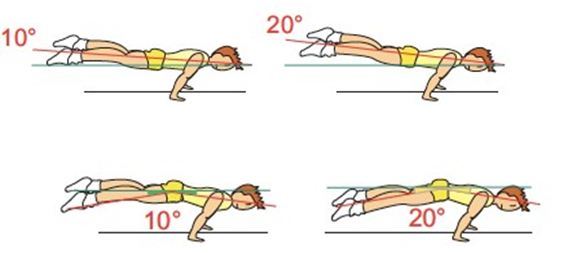 According to the description, no value will be given if the bodyline exceeds 20° above the horizontal: straight body or body in pike position.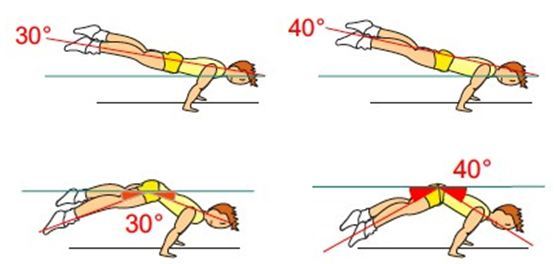 STRADDLE CUT (p 18/65)
Front Support.
After the arms bend, BOTH ARMS AND LEGS PUSH THE BODY UPWARDS INTO A FLIGHT PHASE (airborne).
While airborne, the legs straddle sideways and forward to land extended in support, feet lifted off the floor during the skill.
MINIMUM REQUIREMENTS:
- Shoulders at least in line with the upper arm/s at the beginning of the element;
- Airborne phase before the cut.

According to the description, no value will be given if the minimum requirements are not fulfilled or if the execution is unacceptable: STRADDLE CUT performed like "A FRAME";

COMBINATION OF ELEMENTS
Combination of 3 or more elements:
In case 3 or more elements are performed consecutively (provided that all elements meet the minimum requirements), all the elements will receive the values but ONLY the first 2 elements are considered as Combination and will receive additional 0.1 point
NEW ELEMENTS
In order to keep the specific characteristics and the direction of Aerobic Gymnastics
DOUBLE ILLUSION is the maximum rotation for the Illusion element
TURNS: D 148 3/1 Turns or more à add "or More"

WORLD CHAMPIONSHIPS AND WAGC 2014, CANCUN (MEX)
After the provisional registration for both competitions WCH and WAGC, 40 nations from the 5 continents should be present in Cancun.
A WORKSHOP will be organized during these events on the subject of ARTISTRY by Lyn Heward (« Cirque du soleil ») for judges and coaches, in keeping with the last FIG Symposium held in Berlin 2011.
More details will be given in the work plan of the event.