SPECIFIC DESCRIPTION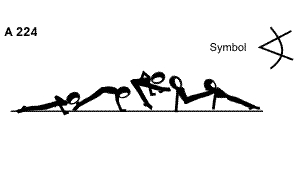 1. Front Support.

2. After the arms bend, both arms and legs push the body upwards into a flight phase (airborne).

3. While airborne, the legs straddle sideways and forward to land extended in rear support, feet lifted off the floor during the skill.

4. Back support (or rear support).
MINIMUM REQUIREMENTS
Airborne phase must be shown before the element is completed