SPECIFIC DESCRIPTION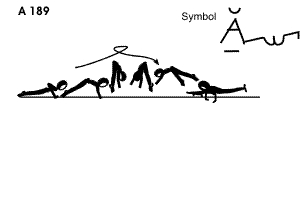 1. Front support.

2. Pushing off the floor, the body is lifted upwards in order to allow it to pike while airborne and then, the body turns 180°.

3. The airborne pike requires vertical legs, knees close to the chest.

4. Show a Lifted Wenson PU when both hands make contact with the floor.
MINIMUM REQUIREMENTS
At the end of the downwards phases the chest must not exceed 10 cm from the floor

Piked position in the airborne phase (60° between trunk and legs)