A. PODIUM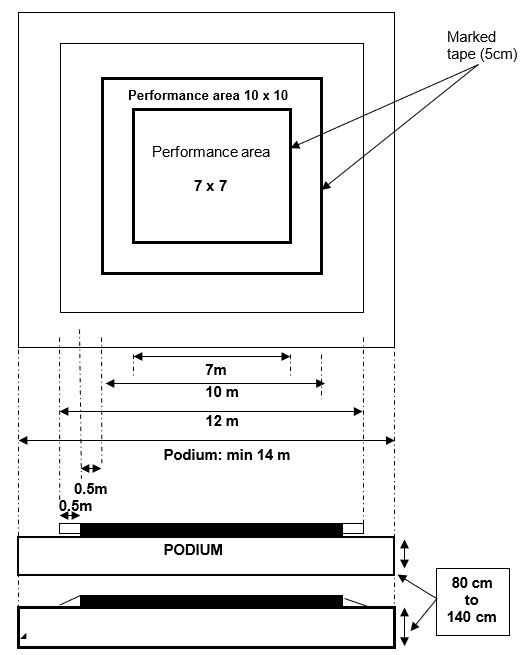 The podium on which the competition takes place is 80 cm to 140 cm high and closed off at the rear with a background.
The podium is no less than 14 m x 14 m in size.
B. COMPETITION FLOOR AND COMPETITION AREA
The competition floor must be 12m x12m. It must have a clearly marked competition area of 10m x 10m for all categories of SENIOR and Junior (7m x 7m will be used by some categories of Age Group and National Development division (see Appendix 1).
The tape is included within the measurements of the competition area. (See Apparatus norms).
Only floors with a current valid FIG Certificate can be used at competitions.
C. SEATING (World Championships)
The Judges Panels are seated directly in front of the Podium.
The Line Judges are seated diagonally at the corners.

The Superior Juries are seated on a podium immediately behind the Judges Panels.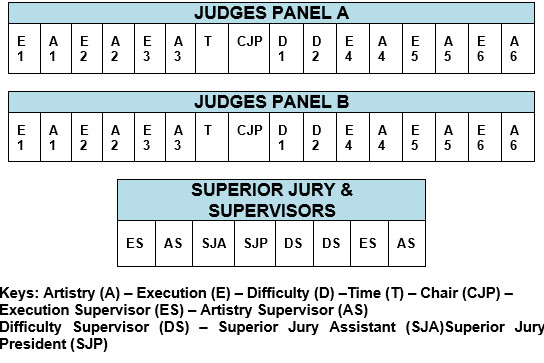 D. RESTRICTIONS
Competitors, coaches and all unauthorized persons are restricted from entering the waiting area during competition, except when called by an official of the OC or the FIG.

Coaches have to remain in the Waiting Area with proper behaviour while their competitors are competing. Coaches, competitors and all unauthorized persons are restricted from entering the judging area. Disregard of these restrictions may lead to the disqualification of the competitor by the Superior Jury.